The effective format of the new service of the Security & Safety project



The multi-year expertise of the Security & Safety project is supplemented by a range of digital services. We take your topic/product/news item and bring it to the targeted audience in different ways: via email shots, website, magazine, online events, contextual advertising, SMM, digital services in order to give you more Leads and the maximum coverage of your target audience.
1.

What do we offer?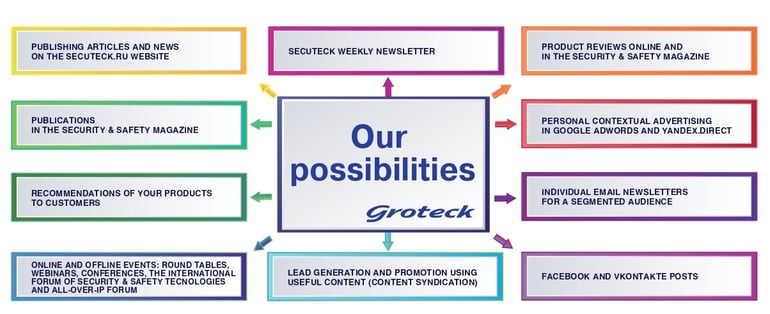 An effective service based on the multi-year expertise of the Security & Safety magazine.
We work on clients' tasks in digital services and offline.
Among our advantages: reliable, professional, loyal audience; modern information delivery via digital channels and e-mailings; lead generation possibilities.
2. How does it work?
1. We determine the most relevant topics together with our corporate customers.
2. We conduct research involving a wide professional audience in the process.
3. We prepare expert articles with best professionals.
4. We make product reviews for Secuteck.Ru website and Secuerity & Safety Magazine.
5. We provide the online platform for meetings with potential customers.
Key topics: Video surveillance and video analytics | Machine vision | Security and fire alarm systems and fire safety | Wireless technologies | Access control systems | Biometric technologies | Cyber security | Complex security| Perimeter protection | Digital transformation

We get the client's content, bring it to the targteted audience and generate new leads.
3. What is the benefit?
1. We make an offer to solve your specific problems.

2. You spend your budget on the services you need only!

3. You receive:
a list of effective and tested channels and tools for promotion of your product/company;

an information support and your presentation on selected sites;

a report with key indicators on the campaign results;

new contacts of potential clients.



Regardless the type of promotion you choose (participation in a product review, an article or a report at an online conference) we will create a high-quality audience that responds specifically to your topics.




4. Examples of cooperation
Example №1. Promotion of the product/solution/case to the target audience, strengthening of brand awareness.
What you are doing:
Describe the audience, provide the information occasion (draft of the article/announcement of the speech/description of the promotion).

What we are doing:
1. Publication in the magazine (strengthens the brand status, gets to the table of the largest corporate customers).
2. Publication on the website (product reviews or articles).
3. Individual targeted email newsletters.
The result - what you get:
You reach a wide range of potential customers from different sides and create a "warm" audience.
Define a topic and audience, provide the content — reinforce the awareness of the brand and your product.





Example №2.

Generating leads for sales, positioning the company as an opinion leader.
What you are doing: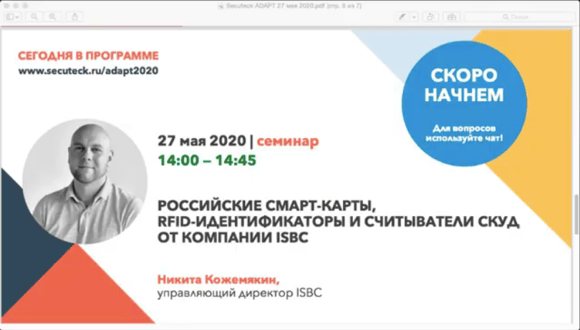 Describe the audience, provide the information occasion (draft of the article/announcement of the speech/description of the promotion).

What we are doing:1. Content Syndication — a comprehensive online service that demonstrates your company's competence to a wide audience of managers and specialists by publishing and promoting non-advertising marketing documents on an industry platform www.secuteck.ru and generating leads for your business.

2. We organize your speech at online and offline events of GROTEK (webinars within Secuteck АDAPT, conferences, private round tables with end customers), the International Forum of Security & Safety Technologies and All-over-IP Forum.
The result - what you get:
You get leads - contacts who are ready to cooperate, create a "warm" audience.
Choose a topic and audience, provide your content, make a presentation and get specific customers interested in your products.




5. Upcoming topics and events
Products reviews at Secuteck.Ru and in Securuty & Safety magazine
Security of places/facilities of mass gathering. The lessons of the pandemic and the new reality.

Engineering infrastructure of the data center. Equipment, expertise, research.

Smart parking. Overview, trends, tendencies, prospects.

Aspiration systems. Technical solutions, expert opinions.
We attract an audience, accumulate, register, make a survey in advance, form qualified leads and transmit them to the client in real time.




Always in touch
Galina Skochko
International Smarketing Manager

skochko@groteck.ru

+7 (916) 371-9060


Outline your task and we will develop an individual offer for you!